ASRS/Mini Load Systems
Maximizing storage space and increasing the flow of non-palletized products and inventory is critical to the continued success of virtually any warehouse or order fulfillment operation. Automated storage and retrieval systems (ASRS) combine a variety of types of equipment and technologies to quickly and efficiently retrieve required items and materials with reduced manual labor.
If you're looking for a partner capable of delivering custom ASRS solutions to help you meet your throughput objectives, turn to BlueSkye Automation as a turnkey provider for all your needs. Our knowledgeable and experienced team will be happy to provide cost-effective solutions that help grow your business.
Partnering with Leading Technology Companies: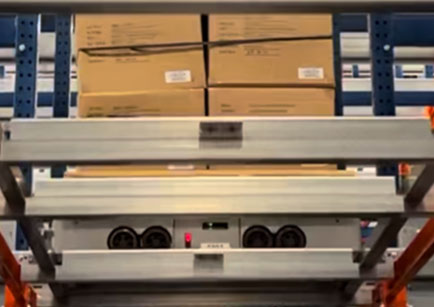 Benefits of an ASRS Warehouse Management System
With the rapid advancement of technology and the introduction of new products and systems on the market, automated storage and retrieval systems have become an integral tool to remain competitive in warehousing and order fulfillment. An effective ASRS virtually eliminates the need for large storage areas and automates repeatable tasks of storing and retrieving items in your facility.
There are many advantages of installing or upgrading your ASRS warehouse management system:
Reclaimed floor space
Expanded production capabilities
Increased throughput
Lower dependency on labor
Faster and more accurate order picking
Increased quality control and product safety
Better ergonomics and reduced workplace injuries
Improved inventory control and optimization
Types of Automated Storage and Retrieval Systems
ASRS solutions handle all kinds of applications, ranging from buffering and assembly to kitting and order consolidation. Systems can include a variety of equipment and technologies based on the volume, type and speed of inventory, storage density and physical specifications of the facility. The most common ASRS systems include:
Carousel-based ASRS
Crane based mini load ASRS
Micro-load ASRS
Shuttle and Robotics based ASRS
Unit-load crane ASRS
Vertical lift module ASRS
Partnering with BlueSkye Automation for ASRS Solutions
We offer integrated solutions designed to solve your new and existing warehouse operating challenges. Our team takes a comprehensive approach to getting to know your operation inside and out. We provide a detailed upfront consultation and thorough assessment of your existing systems. As a turnkey provider, we offer expert system design and mechanical and electrical engineering and installation as well as software implementation, documentation and training, and on-site and post-implementation support.
At BlueSkye Automation, we only work with leading warehousing, inventory, storage and distribution systems management technologies. Additional reasons to choose us as your ASRS/mini load vendor include:
Excellent customer service, communication and responsiveness
Creative design abilities to deliver the most economical and practical solutions
Significant domain experience and design engineering expertise
A trusted and reliable company that is a thought leader in the industry
Get in Touch Today
Unlock the full potential of your operation with ASRS solutions from BlueSkye Automation. Contact us online or give us a call for more information and to speak with a live representative.