Wholesale Distribution
At BlueSkye Automation, we understand that every wholesale distributor has unique operational needs. Your products, facility and past throughput trends all influence the effectiveness of an automation product for your business. As your automation partner, we will develop a turnkey solution to optimize your distribution workflow through the latest automation technology.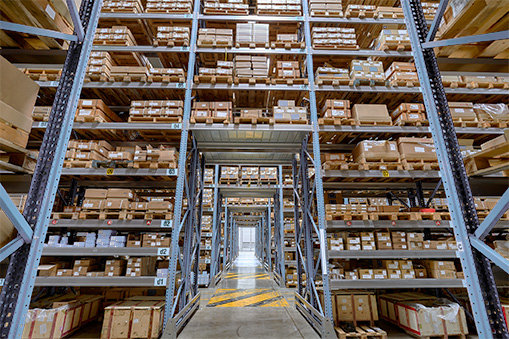 Our Wholesale Distribution Partners
We serve a variety of specialties in wholesale distribution, including:
Industrial supply
General merchandise
Apparel
Drop shippers
Convenience store items
Computer products
Advantages of BlueSkye Automated Systems for Wholesale Distribution
In the wholesale distribution sector, challenges like SKU expansion, e-commerce competition and increasing customer demand require intelligent solutions. BlueSkye Automation addresses the needs of wholesale distributors by supplying them with:
Full-Scope Automation Solutions
Let us work with you from conception to design on an automation system for your facility. Using the following four-step approach, we develop solutions that increase efficiency, throughput and safety:
Consultation: During the consultation phase, we'll discuss your automation goals and business challenges with you. Our team will examine your current operations and performance data to find ways to optimize them.
System design: With your system goals established, our engineers will develop a facility layout and technology workflow to maximize your potential. They'll select the appropriate technology to meet your operational needs.
Installation: After we finish creating your system, our technicians will assemble and install it on-site at your facility. We'll also provide any necessary training and documentation.
Ongoing support: As needed, we'll offer after-sale support to keep your system and operations running smoothly.
Wholesale Distribution Technologies
Our team works with a cutting-edge supplier network that includes trustworthy names such as Amazon Robotics and GreyOrange. We leverage these relationships to coordinate systems with warehouse distribution automation technologies such as:
Smart software
Advanced conveyor systems
Automated storage and retrieval systems (AS/RS)
Racking
Fork trucks
Cutting-edge robotics
Automated order fulfillment and receiving systems
Optimize Your Operations With BlueSkye Automation
Tap into your facility's full potential with smart automation from BlueSkye Automation. Schedule a free operational assessment by contacting our team online or calling us at 704.614.7032.