Mixed Case Palletizers
Your ability to quickly and safely palletize and de-palletize materials is critical to the productivity of your warehousing and distribution operation. To increase the speed and reliability of your automated case picking capabilities, make your first call to BlueSkye Automation. We are a leading source of turnkey integrated solutions that helps improve efficiency and reduce product waste and long-term expenses. Our knowledgeable, experienced team will assist in analyzing your needs to identify the mixed case palletizers and related technologies capable of maximizing the potential of your business.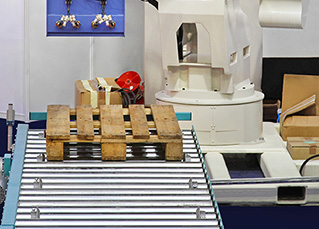 Automated Pallet Warehouse Solutions
Automated order picking of mixed case pallets helps warehouses of many types and sizes increase throughput while lowering dependence on manual labor. We offer a variety of palletizing machines and can custom-configure an integrated system based on your plant layout and desired case per minute rate.
Our mixed case palletizers are capable of handling up to 200 cases per minute and hundreds of thousands of units a day. We offer a range of automated case picking equipment including low-level and high-level palletizers, stack and wrap systems, conventional and automated palletizers, warehouse pallet robots and more. Whether you're working with cases, bundles, trays and totes or cartons, buckets, shrink wrappers or foiled packages, we have effective solutions for all of your applications.
Building a Better Automated Case Picking System
At BlueSkye Automation, we take a consultative approach to understanding your operation to deliver flexible, scalable solutions that solve your most significant challenges. Following a detailed assessment, our skilled representatives select the equipment and system design suited to your application and environment. We offer turnkey integration and installation and stand behind our systems and technology with exceptional after-sale support and operational assistance.
Along with automated pallet warehouse technology, we provide all the equipment you need to modernize your case picking system. We offer shuttle and conveyor systems, warehouse pallet robots, ASRS and a variety of other products. Systems run on the latest warehouse software designed to increase inventory management and distribution efficiency.
Partner with BlueSkye Automation for Mixed Case Palletizers
Everything we do is geared toward helping our customers achieve long-term growth and profitability. We set ourselves apart from the competition by offering unmatched product knowledge and technical expertise. We only work with top-of-the-line providers of warehouse and distribution systems and technologies. Our services include:
Mechanical & Electrical Engineering
Mechanical & Electrical Installation
Controls Engineering
Project Management
Software Implementation
On-site Support
Post Implementation Support
Audits
Documentation & Training
Get in Touch Today
We want to know what success looks like to you. Our dedicated team is here to help you achieve your objectives through innovative and advanced warehousing and distribution systems.
Learn more about our cost-effective and reliable automated pallet warehouse solutions and full range of products and services. Give us a call or submit our online contact form to speak with a live representative and get started on your project today.